MARIA LUISA ALCAYAGA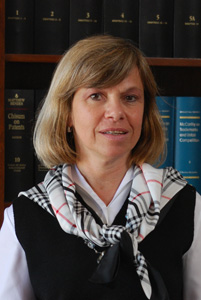 Born in the City of Buenos Aires, Argentina, on August 25, 1954.

EDUCATION: Lawyer, School of Law, Universidad de Buenos Aires (UBA), 1984; IP Agent.
MEMBERSHIP: Argentine Association of IP Agents (AAAPI); Inter-American Association of Industrial Property (ASIPI).
PRACTICE AREAS: She advises clients on legal and administrative issues related to the application of the Law of Trademarks, Commercial Designations and Related Rights, broadening the protection of trademark rights abroad, trademark coexistence agreements, Intellectual Property law (Copyrights), licensing and trademark transfer agreements, and technology transfer. She has been member of Obligado & Cía. since 1994.
BACKGROUND: She has more than 25 years of experience in IP. She was legal counselor for the Trademark Department of the ex Argentine Board of Industrial Property (currently, INPI) in 1984/88 and worked for other IP Law Firms between 1988 and 1994.
She has attended several seminars, congresses, roundtables and conferences organized by the AAAPI (Argentine Association of IP Agents), WIPO, ASIPI (Inter- American Association of Industrial Property), ABPI, INPI (Argentine PTO), as well as by other organisms related to Intellectual and Industrial Property in Argentina and in Latin American countries.
She received a scholarship for the United Nations Development Program for Latin American and Caribbean countries in 1985 (Geneva – Strasburg – Paris) and in 1987 (Geneva – Madrid).
LANGUAGES: Spanish and French.
E-MAIL: