LUIS FERNANDO ORTIZ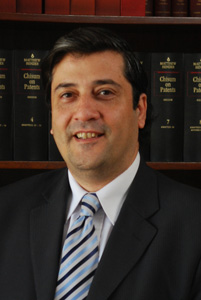 Born in the City of Azul, Province of Buenos Aires, on October 26, 1965.
EDUCATION: Lawyer, School of Law, Universidad de Buenos Aires (UBA), 1992; Postgraduate Degree as Specialist in Aeronautic and Space Law, Instituto Nacional de Derecho Aeronáutico y Espacial (INDAE), 1994; Postgraduate Degree, Major in "Analysis of the Judicial System and Justice Administration", Universidad Nacional de San Martin and Universidad Rey Juan Carlos de Madrid, Buenos Aires, 2006.
PRACTICE AREAS: Legal Department. He advises and represents clients for the protection of Intellectual and Industrial Property rights. He has been member of Obligado & Cía. since 1995.
BACKGROUND: He worked in other Law Firms and has attended several courses and seminars about IP-related matters in the most renowned Institutions of Argentina.
LANGUAGES: Spanish and English (Eurocentres School, Brighton, England, 1994).
E-MAIL: