JORGE EDUARDO PIOVANO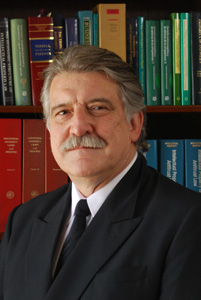 Born in the City of Rafaela, Province of Santa Fé, on January 19, 1952.
PRACTICE AREAS: Trademarks. He is responsible for the Oppositions sector. He advises clients on administrative and management issues related to the protection of trademark rights, their applications and scope (Law of Trademarks and Commercial Designations; Related Rights), new trademarks, renovation of rights, transfers, and copyrights. He is IP agent and has been member of Obligado & Cía. since 1995.
BACKGROUND: He has more than 25 years of experience in IP, and provided services to other IP Law Firms between 1985 and 1995. He has actively participated in several updating and training conferences, seminars, roundtables, and congresses in Argentina, in many Latin American countries, and in Spain organized by AAAPI (Argentine Association of IP Agents), ABPI, ASIPI (Inter-American Association of Intellectual Property), WIPO, INPI (Argentine PTO), as well as by other organisms and associations in furtherance of Intellectual and Industrial Property activities.
LANGUAGES: Spanish.
Email: